Kam na výlet
Lipno
Lipno, Lipno Valley Reservoir, Lipno I or Lipno Dam is a waterworks built on the Vltava River in 1952–1959. It is the largest dam in terms of area and the largest body of water in the Czech Republic (thanks to which it is also sometimes referred to as the Czech or South Bohemian Sea). The dam is located in the village of Lipno nad Vltavou. The widest is the dam reservoir near Černá v Pošumaví, where it spills up to 5 km. On the right bank side, it extends to the state border with Austria.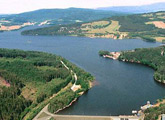 koupání
104km
Ano
Medieval water mill Hoslovice
The village of Hoslovice is located in the rolling landscape of the Šumava Podlesí, approximately 17 kilometers south-west of Strakonice. In its lower part by the stream there are three buildings, the visit of which seems to have transported us to times long past. The area of the unique Hoslovický mill consists of the original mill with a living area, barns with a shed and a barn, all covered thatches, timbered or bricked from mixed masonry. It also includes a pond with a drive, orchards and meadows.
museum
112km
Ano
Únětice
The Únětice brewery was founded in 1710. Beer was brewed here until 1949, when it was nationalized. In the spring of 2011, however, beer production was resumed after 62 years. Today we cook ten, twelve and sometimes also the Únětice special in Únětice. Our mission is to always brew honest and good beer.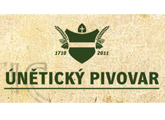 Minipivovary
180km
Ne